The books below are part of the Aspen Moore Novel series. If you would like to explore the series in more detail, learn more about the gadgets found in the stories, details about the locations, or purchase cool stuff related to the Aspen Moore series, check out www.AspenMoore.com
Buying Time (Aspen Moore Novel - Book 1)
Aspen Moore has a new life in a new city, complete with a new career. As a personal concierge, she sells her time to those who don't have enough. One of the perks of her business is focusing on other people's lives so she doesn't have to face the demons in her own.
When Aspen's most loyal customer dies and his suicide looks eerily like murder, she anonymously tips off the police so she won't expose a secret she desperately needs to keep. But, murder and mayhem are a bothersome duo and she soon finds herself caught in a web of chaos.
A string of crimes, long enough to make a real detective sweat, threaten her livelihood and ultimately her life. Aspen's only hope to untangle the mess before they cause permanent damage is to track down who's responsible. Pursuing the truth means solving the mystery of a decade-old land deal, while juggling a quirky DJ and his dog, an eccentric paraplegic, a curious set of twins, and a flirtatious neighbor with spy gadgets.
Available Now!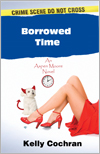 Borrowed Time (Aspen Moore Novel - Book 2)
Aspen Moore's life in the Witness Protection Program is settling down. Her anonymity's intact, her personal concierge business is booming and she's got someone new in her life. She's almost the definition of well-adjusted…until a mysterious USB Flash drive lands on her windshield and her landlady disappears.
A bizarre ransom demand sends Aspen on a quest for a rare blue diamond. Conflicting clues, half-truths, and questionable decisions plague her search. When the two men she counts on appear to fail her, Aspen's entire life becomes a precarious mess.
Aspen struggles to solve the mystery and is forced to confront the person she has become. When she realizes doing something wrong may be the best way to do what's right, she faces the unthinkable – does she do whatever it takes to save her landlady even if it means committing a crime?
Coming December 2020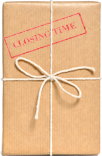 Closing Time (Aspen Moore Novel - Book 3)
Preview in words: New York, Road Trip, Chase, and of course Chaos!