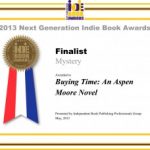 Normally, I spend hours (okay, maybe minutes), coming up with some clever blog title.  But as you can see I haven't blogged lately and my brain is a bit rusty.  Honestly, the real truth is I couldn't come up with something that didn't make a joke out of my hard earned award!
I mean, would it sound like I was elated if I had titled the blog "Close, but no cigar", or "Finally, a finalist"?  And might it have sounded like I was bitter had I entitled the blog, "Who do I need to sleep with to win?"  Or perhaps a little ungrateful had I slapped up the title "My book's better than your book"?
All joking aside, I'm ecstatic, elated, and so as not to freak out any onlookers, I'm doing my happy dances behind closed doors.
As a finalist, I had the opportunity to be honored at the Harvard Club in New York City, pick up my medal in person, and rub elbows with the winners and other finalists. Unfortunately, the awards reception was held mere days after I was to return from a two week road trip through the back roads of Kentucky (that's a story for another blog).
Buying Time was also listed along with the winners and other finalists in the 2013 Next Generation Indie Book Awards Catalog.  The 2500 catalogs were distributed to media, book buyers, and others at the Book Expo America (BEA) registration desks in New York at the end of May.
Next Generation Indie Book Awards is the largest not-for-profit awards open to independent authors and publishers. Check out my book on the mystery category list!
I'll post a photo of the metal once I receive it, but for now, here's an image of the certificate: