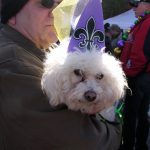 On the left is our dog Tidbit, or in this case, Princess Tidbit.  On the left is my manly husband, Bill, holding his little princess with her pinwheel topped Fleur-de-lis hat.
I've got a lagniappe (LAN-YAP) for you – click here (if you want to see more costumed dogs from the 2012 Pet Parade).
Read on for more information about Mardi Gras in New Orleans, St. Louis, and how Tidbit made it into the Guinness Book of World Records.
⚜
New Orleans Mardi Gras 2014 is March 4th (Fat Tuesday)!   Mardi Gras is one big party! Days of parades featuring Krewes and their colorful floats.  The oldest, Krewe of Rex, was founded in 1872. Their colors, purple, green, and gold, have become the colors of Mardi Gras and they were also responsible for introduction of doubloons, special coins thrown into the crowds on Mardi Gras.
When I was twelve and lived in New Orleans, I remember standing in the crowd, holding my hands up for beads and doubloons and I didn't even have to lift my top!  I still have a doubloon from my crazy pre-teen days.
What some people might not know is that St. Louis, Missouri holds the second largest Mardi Gras Celebration in the United States. Held in the Soulard district, it includes days of events like the "Taste of Soulard", the Purina Beggin' Pet Parade, 5K races, softball tournaments, and of course the Grand Parade.  It is virtually a month long celebration and generates $23 million dollars for the area's economy.
Last time I ventured into Soulard during the Mardi Gras was in 2012. I attended the Purina Beggin' Pet Parade (which makes an appearance in my upcoming book, Borrowed Time). The 2012 parade was an important one as thousands of dogs and their owners were there to set a world record – Most dogs in costume in one location. We dressed poor Tidbit like a princess and eagerly allowed ourselves to be  funneled through the official counting lanes. Now, St. Louis holds the Guinness Book world record with 1,326 dogs in costume.