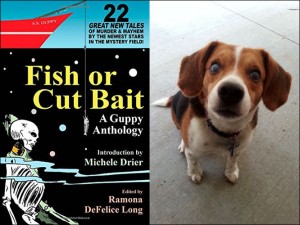 In the middle of writing the second book in my humorous mystery series, and my first ever short story, Blinded by Murder, I found myself overcome with fear. Would these stories be good enough, were they too boring, not funny, and – gulp – unworthy of readers? I worried so much I found myself spending time surfing the web instead of writing. My fear was so great that I couldn't see the path in front of me.
Have you experienced this kind of fear? Have you ever wanted to do something – skydive, stand-up comedy, write a book – only to spend your time doing something completely unrelated?
If you have, you're not alone. Fear strikes almost everyone some time in their life. When it does, how do you keep it from paralyzing you? How do you keep it from blinding you, making you unable to see a successful future? Don't ask me for the answer, ask my dog Skipper. He knows a thing or two about overcoming fear.
When the three year standoff between cancer and our Rottweiler/Australian Shepherd mix Bear ended, our Bichon Frise, Tidbit, became distraught. We knew she needed another pal. So, on July 4, 2013 we made our way to the Open Door Animal Sanctuary to adopt Skipper the beagle.
On the way home, Skipper sat on my lap in the front seat of our SUV not knowing what his future held. Would he end up at a hoarder's home like the one from which he'd been rescued? Or something even more tragic? His body trembled. Even after arriving at his destination he still didn't know his fate because he's blind.
While living with sixty other animals in deplorable conditions, Skipper's glaucoma went untreated. He was lucky to have a caring rescue group raise funds and a veterinarian specializing in animal eye care ease his pain.
Often an animal with this problem would undergo a procedure called enucleation where the entire eye is removed and the eyelid sewn shut, but Skipper was given the royal treatment. He received a procedure called evisceration/ocular prosthesis on both his eyes. More expensive, the treatment removes only the diseased parts of the eye and is replaced with a silicone sphere. He still has his own corneas and his muscles are intact, allowing him to move his eyes.
Since Skipper's arrival, he has learned to navigate our home with ease, including the stairs. He expertly jumps up and down from the couch, plays tug of war with his pals, and even tries to get his groove on with Tidbit though he's been neutered. It's not until Skipper's occasional run-in with a wall that we remember he's blind.
Skipper helped inspire my short story Blinded by Murder, recently published in the Fish or Cut Bait – Guppy Anthology. More importantly he showed me that belief in overcoming my fears begins with the first step.
So, how do you keep fear from blinding you? Skipper's solution makes it easy. All you need to do is trust. Trust that everything will turn out better than you could have ever imagined. Watch as Skipper – The Amazing Bouncing Beagle demonstrates his theory. It is sure to make you smile.